These Are the Most Popular Baby Names of 2018
Sophia and Jackson snag first place again.
by Amanda Tarlton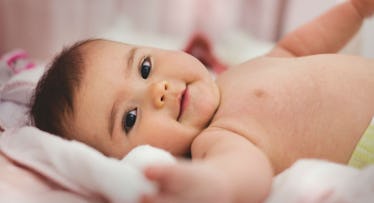 Pexels
BabyCenter just announced the most popular baby names of 2018. According to the parenting website's annual list, which compiled data from 742,000 parents, Sophia is the number one girls' name for the ninth year in a row, while Jackson tops the boys' list for the sixth straight year.
"Sophia is the dominant girls' name of the decade, with no signs of slowing down," notes Linda Murray, Senior Vice President of Consumer Experience and Global Editor in Chief at BabyCenter. "It has worldwide appeal, it's pronounceable in multiple languages, and it's feminine and sophisticated all at once. As for Jackson, it's a modern twist on the old classic Jack."
One of the big influences on this year's list was pop culture, primarily Fortnite and the Jenner-Kardashian family. The online video game boosted names based on both the characters and the skins, like Ramirez and Leviathan for boys and Bunny and Rogue for girls. Similarly, the popularity of the Jenner and Kardashian clan is seen in the rise of Stormi (the name of Kylie's daughter), Dream (Rob's daughter), Saint (Kim's son) and Reign (Kourtney's son).
Two other major trends were food and peace names, reflecting an increased interest in health and wellness. Kale, Kiwi, Maple and Saffron all jumped over 30 percent in terms of food-related names, while zen picks like Peace (up a whopping 66 percent), Harmony, Hope and Ocean also moved up the list.
Take a look below to see the top 50 names that made the list in 2018. You can see the full list of 100 names at BabyCenter, where you can click on each name to find everything from how popular it's been in the past to what its common sibling names are.
THE 50 MOST POPULAR GIRLS' NAMES OF 2018
Sophia
Olivia Emma Ava Isabella Aria Riley Amelia Mia Layla Zoe Mila Charlotte Harper Lily Chloe Aaliyah Adalyn Evelyn Avery Aubrey Ella Camilla Nora Scarlett Maya Emily Abigail Madison Eliana Luna Ellie Hannah Arianna Kinsley Elizabeth Leah Hailey Sarah Victoria Paisley Elena Penelope Everly Madelyn Addison Grace Brooklyn Charlie Isabelle
THE 50 MOST POPULAR BOYS' NAMES OF 2018
Jackson
Liam Noah Aiden Caden Grayson Lucas Mason Oliver Elijah Logan Carter Ethan Muhammad Jayden Michael James Sebastian Alexander Mateo Jacob Ryan Benjamin Daniel William Jack Julian Leo Jayce Caleb Luke Henry Gabriel Matthew Wyatt Owen Connor Josiah Levi David Isaac John Carson Cameron Isaiah Asher Lincoln Adam Nicholas Landon
This article was originally published on