Couples Are Throwing Awesome Parties to Celebrate Getting a Vasectomy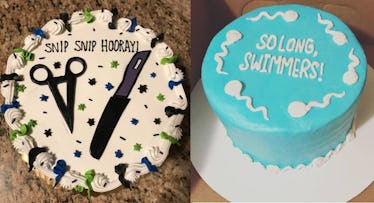 Mexibillystudio and Sugarspellcookies/Instagram
There are a lot of occasions to throw a party: birthdays, weddings, gender reveals… and now, vasectomies. In a bizarre but hilarious new trend, women are celebrating their husbands going under the knife with vasectomy parties.
Leah Randall is one of the wives who recently hosted a snipping celebration of her own. With a cake that read, "Snip snip hooray!" and was decorated with frosting sperms, she had her kids wear shirts that said "Swim team survivor" on the day of their dad's vasectomy. And as for her husband? She had a special shirt made for him, too: "The swim team may have been cut but the coach will never retire!"
"I saw the idea a couple of years ago and thought it was fantastic!" Leah explained to UNILAD. "I wanted to make it a celebration for him since he's taking one for the team and I was thankful."
Along with Leah's husband, who she told CafeMom "got a kick out of it," people on Facebook called the vasectomy party "brilliant" and "one of the most hilarious things I've ever seen." The post itself, uploaded about a month ago, has even gotten over 42,000 shares so far.
And while the trend is currently taking over social media, it's not exactly a new thing. Last year, for instance, one mom went viral for throwing her husband a "balls voyage" party. Not only was the cake topped with a tombstone commemorating the life of his swimmers but wife Kimberly served genital-related snacks like mini sausages and meatballs, Ding Dongs, and beef jerky sticks.
Here are some of the best vasectomy cakes on Instagram:
This article was originally published on