Mom Warns Parents About Aerosol Sunscreen When It Burns Her Daughter's Face
Caution: The pictures are graphic.
by Amanda Tarlton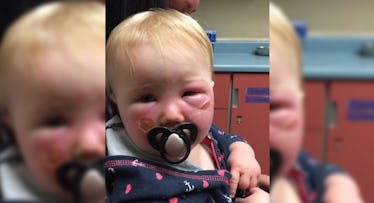 Rebecca Cannon/Facebook
Sunscreen is supposed to protect skin—but one mom is claiming that it did the opposite. According to Rebecca Cannon, a can of aerosol sunscreen caused chemical burns on her baby.
"Please watch and be careful when using aerosolized sunscreen!" the mom wrote on Facebook, sharing a series of graphic photos showing the burns on her daughter Kyla's face. "I have done a lot of research. Since coming home and have found a disturbing amount of cases like ours. I don't know why it's not removed from the shelves!!"
The spray that she used was Banana Boat SPF 50 broad spectrum kids sunscreen. "On the back of the bottle it said it was safe for use on all ages unless the child is under 6 months of age," she explained in an interview with POPSUGAR, adding that Kyla wasn't even exposed to any sun.
According to Cannon, at the time of her post, Health Canada was investigating nine other similar cases related to aerosol sunscreen. And many parents shared their own horrifying experiences with the spray in the comments.
"Almost the exact same thing happened to my son years ago except worse. It was over his entire skin and came close to killing him," wrote one user.
Cannon hopes that Kyla's scary incident serves as a warning to other parents. "I just want the word out for parents to be careful as to what they are putting on their children," she told POPSUGAR. She also noted that she had contacted Banana Boat, who gave her a reimbursement but took no further action.