This Mom Used a Vibrator to Help With Her Baby's Chest Congestion
by Amanda Tarlton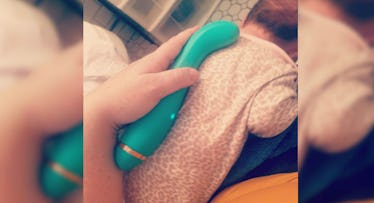 Melons and Cuties/Facebook
One mom came up with a creative way to clear her baby's chest congestion: using a vibrator. On January 8, Texas birth and wellness center Melons and Cuties shared the hack on Facebook in a photo that's now going viral.
"Our customer shares her remedy for chest congestion!! Use on baby's back while sitting in a steamy bathroom. Brilliant!!!" reads the caption of the photo, which shows the mom rubbing a wand vibrator over the infant.
Melons and Cuties go on to explain that "many hospitals and respiratory therapists use these in the treatment of respiratory issues on the BACK in hospital settings. It is common practice." According to the Texas-based center, the gentle vibrations of the sex toy loosen mucus so that the baby can cough them up.
The post caused a stir on social media, with over 20,000 shares and 26,000 comments to date, as people joked about the unusual hack. "Funny, it usually takes my breath when I use it," wrote one user, while another quipped, "Tomorrow, all the ladies of Wichita Falls will be at Adam & Eve. 'Oh, I just need this for my baby's respiratory issues.'"
There were also parents who chimed in that have used a vibrator on their own babies. One dad said, "This works. I tried it on my son… He coughed up so much crap yesterday after spending hours in an emergency the night before struggling to breathe."
And Melons and Cuties appreciated both the serious and the funny responses, commenting, "It's good to see moms encouraged to use things readily available to help with wellness and not be shamed for it!" They also added that they're "grateful for the laughs along the way because laughter IS the best medicine for moms in the trenches."
There's no reason to believe this method will work for everyone, but the ingenuity of parents is clearly neverending.