Mom Faces Jail Time After Taking Away Daughter's Phone As Punishment
Even crazier, it was the girl's father who filed the charges against her.
by Raz Robinson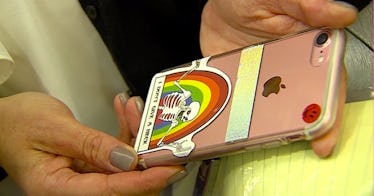 WoodTV
When a Michigan mom confiscated her 15-year-old daughter's phone as punishment for getting in trouble at school, she never imagined the disciplinary measure would land her court. But it did. Jodie May recently found herself in front of a judge and facing potential jail time after her ex-husband, who claimed he bought the phone for their daughter, filed theft charges against her.
After claiming that he owned the phone and labeling his ex-wife's actions criminal, he filed a complaint with the local police department. May was eventually arrested and, while released on a $200 bond, faced up to 93 days in jail for a misdemeanor larceny charge.
"I was just being a mom, a concerned parent and disciplining my daughter," said May.
To make matters worse, right before her bench trial, an Ottawa County District Judge hit May with another charge: larceny by conversion. Larceny is simply the act of stealing property. But according to the Michigan based Davis Law Group, 'larceny by conversion' means committing larceny by "cheating someone out of their property or possessions." The rub is that larceny by conversion is also punishable by up to 93 days, so May was now looking at 186 days behind bars.
As it turns out, though, May's husband didn't own the phone at all ⏤ May's daughter did. And seeing as she was a minor, the assistant prosecutor requested that the case be dismissed before any witnesses even took the stand. According to May's court-appointed attorney, the case was "authorized on a probable-cause basis," and should have been thrown out before it even got to court. Still, May feels vindicated.
"I think it's ridiculous," May said. "I can't believe I had to be put through it, that my daughter and family had to be put through it. I'm very surprised, but I'm very happy with the outcome."
This article was originally published on