Mom Apologizes After Accidentally Sending Son to Elementary School in Obscene Shirt
It's an honest mistake. But that doesn't make it any less funny.
by Raz Robinson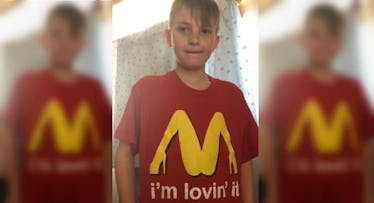 Facebook: Shelly McCullar
What would you do if you accidentally sent your 10-year-old son to school in a less-than-appropriate McDonald's t-shirt? If you're Texas mom Shelly McCullar, you own up to the mistake in a hilarious Facebook post that quickly went viral. Her son's shirt might have looked like the famous Mickey D's golden arches, but upon closer inspection, it's clear that they are actually a woman's legs spread open to look like the famous M logo. Just to top off the inappropriate sandwich, the shirt also includes the famous "I'm lovin' it" slogan. It's an honest mistake but that doesn't make it any less funny.
In that post, McCullar wrote that the shirt came in a box of hand-me-downs from a friend. McCullar insisted that she had not had time to properly go through the box of clothes before giving them to her son. In fact, most of the teachers at his elementary school didn't notice either.
Still, McCullar did vow to be more vigilant in the future:
"Once again, my sincere apologies to the teachers and staff at Travis Elementary. I promise from now on to monitor what my kids are wearing! I had no idea Anthony wore this to school!!," she wrote in the post. "Just to clarify, I would never let my kid wear something like this. A friend had given me some hand-me-down clothes for Anthony. I haven't had the chance to completely go through them. I will tonight though."
While this seems like a hard mistake to make, parents are busy and no one would assume that a box of clothes for kids would include a shirt like that. Fortunately, the already embarrassed McCullar did not face a lot of the vitriol that unsuspecting parents usually deal with when they make public mistakes with their kids. The post has been shared more than 100,000 times and most of the people commenting seem to find the whole ordeal hilarious, and it's hard not to.