This Mom Had the Perfect Response to Her Kids Shaving Their Own Heads
"It's okay, it's just hair. It will grow back."
by Amanda Tarlton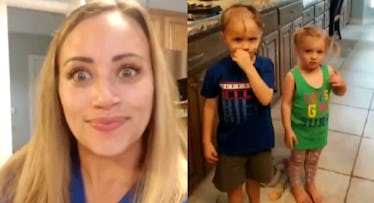 @itsiannn/Twitter
Eight minutes. That's all it took for Stephanie Plucknette's three kids to get their hands on an electric razor while she was out of the room—and shave their own heads. The New York mom captured her reaction, a mix of tears and laughter, is now going viral in a hilarious video.
According to BuzzFeed News, Plucknette had left the clippers out after shaving the family dog earlier in the day. When she walked into the kitchen after taking a shower before her night shift as a nurse, the mom was shocked at what she saw.
"I'm crying because Teddy found the buzz cutter," Plucknette says in a shaky voice, as she flips the camera to show Teddy, five, and Eloise, three, standing in the kitchen with their heads half-shaved. While she told BuzzFeed News that "my first reaction was 'No, no, no…" she eventually calmed herself down.
"It's okay, it's just hair. It will grow back," she says to her kids, including Fred, two, who also had his hair cut by his big brother, in the clip. "Mommmy's okay, Mommy just had a little [meltdown]."
Eloise seemed to be the most distraught over her brother's handiwork. When Plucknette asked her daughter if she liked her new haircut, she said no and added, "I look like a boy."
The three-year-old went on to ask Plucknette, "Mommy, can you put more hair on my head?" Her mom did her best to reassure both her and her brothers, saying, "You're a beautiful girl" and "We'll make it work."
Plucknette (whose original Instagram Story, since being retweeted by her brother, has received over 8.5 million views so far) told BuzzFeed News that her kids actually like their new 'dos now that their dad shaved them all properly. "They don't mind the look. They just think it's cool," she said.
This article was originally published on