Mom Flying With Her Baby Handed Out Gift Bags to the Other Passengers
by Amanda Tarlton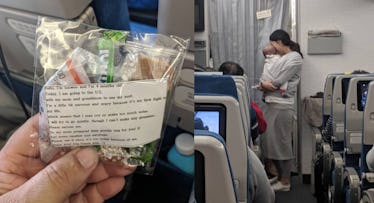 Dave Corona/Facebook
Flying with babies can be a stressful experience for both the parents and the other passengers. One mom, who was traveling with a newborn, hoped to avoid any issues by giving everyone on her flight a gift bag as an advance apology for her child's behavior.
Each of the 200-plus bags contained earplugs and candy, along with a note which was written from four-month-old Junwoo's point of view. "I'm a little bit nervous and [scared] because it's my first flight in my life, which means that I may cry or make too much noise," it read, asking passengers to use the provided earplugs if she acted up.
One of those passengers, Dave Corona, shared a photo of the bags to Facebook. He said that throughout the entire 10-hour flight from Korea to San Francisco, there was "not a peep out of the kid." He added that the bags were "a very touching gesture by the mother but as you know when you have kids expect the unexpected."
She isn't the first parent to give out gifts on a flight. In 2017, George Clooney and wife Amal, who were traveling overseas with kids Alexander and Ella, handed out noise-canceling headphones to other first-class passengers.
While some people on social media appreciate the mom's thoughtfulness, many argue that parents shouldn't have to apologize for their children while flying. "I think people need to be more understanding on flights and not make parents and their children feel so 'unwelcome' on flights," wrote one woman.
Another parent chimed in, saying, "It's the WORST FEELING as a mom to not be able to comfort or calm down my crying child. I would hope people could understand that."
This article was originally published on