Mom Faces Charges After Her Child Fell Out of Moving Car
She could serve up to a year behind bars.
by Amanda Tarlton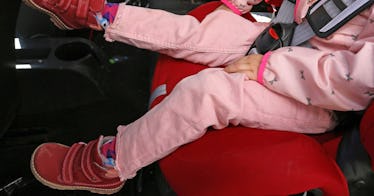 A Minnesota mom is now facing child endangerment charges after her two-year-old daughter fell out of a moving car. Authorities say that 40-year-old Maimuna Hassan failed to properly secure her toddler's car seat, resulting in the incident which occurred Monday, January 14 in Mankato, Minn.
In the dash camera footage shared by Chad Cheddar Mock, who was driving behind Hassan, the rear passenger door of the 2004 gold Honda Civic opens as the car goes around a bend in the road. The two-year-old is then seen tumbling out, still fastened in her car seat.
According to the criminal complaint, which was filed Thursday in the Blue Earth County District Court, Hassan, who continued driving for a few minutes before realizing her daughter was no longer in the car, was "crying and upset." The report adds that "the defendant went up to the child occupied in the car seat and hugged the child."
Hassan told police that "the child was secured and must have unlocked [the door]." However, upon investigation, police discovered that while the child may have been fastened in the seat, the seat itself was not properly secured in the car.
There was no latch strap across the seat (despite the fact that the Civic is compatible with it) and the chest straps were unbuckled. Additionally, the passenger door, while latched, wasn't completely closed.
"It's amazing that this child didn't have any injuries," Mankato Police Commander Daniel Schisel told WCCO. "I think there's times we hear about this, but we don't actually have the opportunity to have footage of it."
Hassan is now being charged with child endangerment along with failure to fasten a child restraint system and driving with only a learner's permit. If found guilty of endangering a child, she could face up to one year in prison and/or a $3,000 fine.
Hassan is scheduled to appear in court on February 14.
This article was originally published on