Mom Is Arrested After Daughter Licks and Puts Back Tongue Depressor at Doctor's Office
Apparently, it was all part of a bizarre social media trend.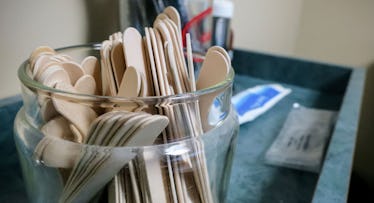 A Florida mom has been arrested after posting a video of her daughter licking a tongue depressor at a doctor's office, WJXX reports. The footage, which went viral before being removed, apparently stems from a "licking challenge" viral trend.
Last week, 30-year-old Cori E. Ward shared a clip of her daughter inside an exam room, licking a tongue depressor and putting it back. A sign above the jar of tongue depressors reads "PLEASE DO NOT TOUCH THE MEDICAL SUPPLIES! THANK YOU!" Ward captioned the Snapchat video: "Don't tell me how to live my life."
Authorities quickly got wind of the clip and arrested Ward. She was then charged with one count of tampering with a consumer product without regard for possible death or injury. On Friday, a Duval County court judge set her bond at $2,500 and instructed Ward to avoid contact with the doctor's office and don't post on social media. The medical center later said they "immediately removed all materials and containers" from the exam room.
Ward's video follows a string of similar "prank" clips in which people lick various items. Last month the #IceCreamChallenge grew wildly popular, showing participants in stores opening ice cream containers, licking the top, and putting them back. Such challenges are typically executed for views, but Ward insists she wasn't participating in anything like this.
"The video doesn't show that the items were thrown away or anything else that happened," the mother wrote on her since-deleted Facebook page. "I posted this on my personal Snapchat with my 20-something friends, where someone allowed another person to view it. I didn't post it on Facebook or YouTube as a challenge or whatever."
Regardless of whether Ward's actions were part of a challenge, these antics are not only straight-up unsanitary but potentially dangerous.
This article was originally published on