'Moana' Halloween Costume Controversy Is Dividing Parents
This issue stemmed from a blog post that went viral.
by Alicia Kort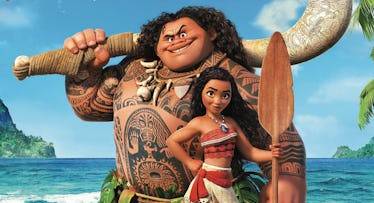 Disney
When Moana defied her parents and answered the Ocean's call to return the heart of the goddess Te Fiti, children found a Disney princess they admired. The movie featured a headstrong heroine who wasn't afraid to stand up to Demigods or face man-eating coconuts. So it's not surprising that kids want to dress up like Moana for Halloween. Some parents, however, say not so fast and have declared that if your kids aren't of Polynesian descent, they shouldn't dress up as Moana or Dwayne "The Rock" Johnson's character Maui. They're citing cultural appropriation.
This is where everything gets complicated. Moana made some of Hawaii's religious figures into characters, and Maui is a part of Hawaii's mythology. The controversy all began in 2016 when Disney came under fire for putting a Maui costume that was a brown bodysuit with tattoos into their online Disney store. The reaction was swift. Disney pulled the costume three days after they were slammed for creating it in the first place.
In October 2017, blogger and mom Sachi Feris wrote a post about why she wouldn't be letting her daughter dress up as Moana for Halloween titled "Moana, Elsa, And Halloween" for her blog Raising Race Conscious Children. She went viral. Her 5-year-old daughter even wanted to dress up like Moana for Halloween this year, but Feris gently explained that dressing up like Moana would be cultural appropriation. It'd be an insult to someone else's culture. Ultimately, her daughter decided that she'd be Mickey Mouse instead. Feris hasn't done a follow-up to her post in 2018, but she and Lori Riddick did write another post imploring parents to use Halloween as a way to teach children.
"Halloween is an opportunity to have a conversation with your child about race, power, and privilege," The post said. "Most important, we hope that you will use Halloween as an opportunity to engage your child in an ongoing conversation about how they can use their voices as change-makers."
This issue is still dividing parents both on and off the Internet. There have been many guides for dressing children in a culturally sensitive way for Halloween and op-eds penned. Some say that Moana is a Disney princess, and children should be able to dress like her regardless of race while others share Feris's opinion.
This article was originally published on