Only Missy Elliott Can Get Away With Dressing Up As Herself for Halloween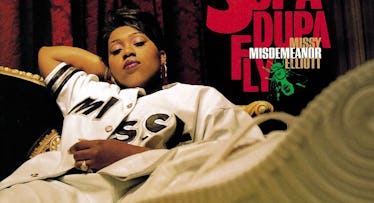 Just went you thought Missy Elliott couldn't get any cooler, she turns around does something like dress up for Halloween as…herself.
Fresh off an MTV Video Music Awards performance of (some) of her hits and reunion with the little girl who danced in the music videos of her heyday, Elliott decided to keep the nostalgia train going on Halloween. She recreated the album cover for her 22-year-old album Supa Dupa Fly, released when she still went by Missy Misdemeanor Elliott, and posted a side-by-side comparison on Twitter.
"[O]ne of these pictures I took ONLY 3 DAYS AGO the other was 22 YEARS AGO CAN YALL TELL THE DIFFERENCE??" she asked her followers, and honestly the answer is "not really." It's an incredible recreation because she got the costume and the pose and the setting just right, but what's also amazing is that she looks about the same as she did 22 years ago.
This isn't even the first time Elliott has pulled this move off. Last year, she posted a clip of herself dressed as she did in the music video for "The Rain," though sadly she had to replace the original blow-up suit with a Versace coat.
We're looking forward to seeing which Missy Missy dresses up as for Halloween 2020.