Minneapolis Schools Will No Longer Be Staffed by Local Cops
The school board voted unanimously to end a 40-year relationship with the Minneapolis Police Department.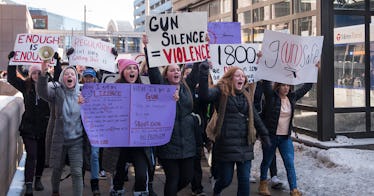 Fibonacci Blue / Flickr.com
For the first time in 40 years, Minneapolis public schools will not be staffed by officers from the Minneapolis Police Department.
The school board voted unanimously to the end its relationship with the law enforcement agency nine days after four MPD officers killed George Floyd, an African American man accused of using a counterfeit bill at a deli, in an incident that's been followed by protests — and often violent police responses — in cities around the world.
Floyd's death might have been the final straw, but it comes after student activists pressured the board to remove cops from schools for years. Rayna Acha, an organizer with the student-run Young People's Action Coalition, is one such activist.
"A few months ago, [YPAC was] really losing hope, and felt like we weren't getting anywhere with police presence in schools. [The board] has heard us and seen us, and gotten calls from us. It's upsetting that people have to see someone be murdered in the street to take serious action. That makes it feel like student voices weren't enough," she told Mpls.St.Paul Magazine.
The Minneapolis Federation of Teachers also called on the board to take this drastic step.
"We call on the district to sever all financial ties with department, including school resource officers. Instead, our district should spend its money on people who can meet the needs of our students, including providers of mental health supports and education support professionals," a joint statement from the president-elect of the union and the leader of the chapter representing education support professionals said.
The University of Minnesota did something similar last week, stating that it would no longer staff campus events like football games with MPD officers.
Floyd's death might have radically altered the optics of the move, but there's ample evidence that cops are a negative influence in schools. Studies have found lower test scores, attendance, and graduation rates in schools after police officers were added. Then there is the fact that staffing schools with police officers disproportionately harms black and brown students, who are more likely to be suspended, arrested, disciplined, and subject to police violence in schools with officers.
The board's move frees up $1 million in funding. A new safety plan must be presented at a board meeting on August 18.
This article was originally published on