Here Are The States Most People Moved To In 2020
Apparently, no one wanted to move to California this year.
by Isabella Bridie DeLeo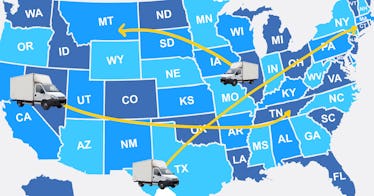 Do you want to know where everyone moved to in 2020? Or have you been dreaming about packing up your things into a U-Haul and moving to a new place during the pandemic? If so, then you certainly wouldn't be alone: you'd be among the troves (i.e. millions) of folks renting moving trucks to take them to a new city and state.
U-Haul's just published their 2020 migration trend report, and the results are interesting, to say the least. U-Haul collects data on where and how many U-Haul renters are paying for a one-way truck to enter into a state, or "the net gain of one-way U-Haul trucks entering a state versus leaving that state in a calendar year" out of the "more than 2 million one-way U-Haul truck customer transactions that occur annually," according to the site.
So where are people moving to exactly? Well, according to U-Haul, if either Tennessee or Texas is calling your name, it would seem that great minds think alike. Tennessee took the top spot this year, moving up from last year when it was the 12th most popular spot in terms of migration growth. And with Tennessee in first place, U-Haul says that 2020 was the first time in five years that neither Texas nor Florida were in the top spot of new residents. The last time those two states were previously ousted was in 2015, when North Carolina beat out The Lone Star State and The Sunshine State for first place.
The top 10 states in U-Haul's 2020 data are Arizona, Ohio, Colorado, Missouri, North Carolina, Georgia, Nevada, in addition to Texas, which took the second spot, and Florida, which took third place this year. Overall, these trends suggest that the Southwest, Midwest, Southeast and the Rocky Mountain region have become particularly desirable moving spots this year, potentially as more and more people are moving out of big cities and into less densely populated areas.
So, where aren't people moving to? Apparently not Illinois or California. In 2020, Illinois came in 49th and California in 50th, and both states have been hovering around the same place since 2015.
Jeff Porter, U-Haul Company of Nashville president, said, "I'm seeing a lot of people from California move (to Tennessee) because they're attracted to our lifestyle." Porter added, "Tennessee has no income tax and is very business-friendly. There are plenty of jobs. People and companies are taking note. Places like Nashville, Murfreesboro, and Clarksville are attracting tons of new residents. Nashville is ever-growing, and even the era of COVID-19 isn't slowing that."
According to Porter, this migratory trend isn't just because of the pandemic, although COVID-19 may have given some people the extra incentive to move. Porter explained, "We were seeing movement before the virus hit, but I think the situation has pushed a lot more people away from the West Coast to our state." If you've been looking for a sign to move to Tennessee, I guess this is it.
This article was originally published on