Microsoft Is Offering 3 Extra Months of Paid Parental Leave
The move comes as parents scramble to balance work with childcare (and homeschool) responsibilities.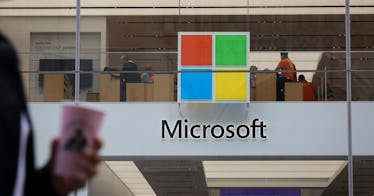 As efforts to slow the spread of COVID-19 continue to keep schools around the country closed, Microsoft is offering a new employee benefit: three additional months of paid parental leave.
Parents who work for of the Redmond, Washington-based technology company who are also parents can elect to take a three-month stretch off or use their additional time in a more piecemeal manner, which could be a better choice for parents seeking to split childcare and homeschooling responsibilities with their spouse.
A spokesperson for the company told CNN that the policy is designed to "give our employees greater flexibility and time off as they face extended school closures." It's the kind of policy that could actually help working parents who suddenly have a lot more on their plate as a result of the crisis.
Of course, the millions of working parents in this country — not just the fraction of Microsoft's 90,000 U.S. employees have a kid under 18 — should be able to make sure their kids are taken care of without risking their employment. A government-mandated menu of benefits essential to good parenting — a living wage, mandatory paid parental leave, and childcare subsidies among them — could make parenting in the U.S. much, much easier.
Unfortunately, the political reality means that kind of step forward is highly unlikely. We're left with a system in which companies are largely left to their own devices in deciding what kind of benefits to offer their employees. The best we can hope for at this moment is more companies following Microsoft's lead and extending benefits to parents, including those who work less lucrative jobs than many Microsoft employees, that might actually help them make it through this crisis.
But while it's a distant second to a dramatic expansion of social benefits for families, companies giving their employees who are also parents more flexibility in taking care of their kids — particularly during a pandemic — is a good thing. Here's hoping other companies follow Microsoft's lead.