Child Care is About to Get A Lot More Affordable in Michigan
Faced with six times more money than the Wolverine State normally gets from the federal government, Michigan is investing in families.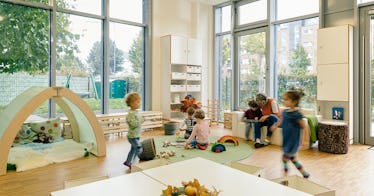 Normally, the state of Michigan receives $241.5 million in federal money every year to spend on increasing access to childcare. Along with the other 49 states, this isn't enough to ensure that every family can afford it—or that every childcare worker makes a decent wage. But this year, thanks to a pair of COVID-19 relief bills, Michigan is getting $1.4 billion. And they're putting it to good use.
Michigan lawmakers are working on a bipartisan proposal that would "increase access to child-care services for hardworking families, while providing additional tools to strengthen and sustain the child-care industry as a whole," according to a press release. The bill also has the support of Governor Gretchen Whitmer, who said "every family in Michigan deserves to have access to safe, affordable, quality child care" in a speech delivered at Troy Babes, a daycare center in the Detroit suburb of Troy that unfortunately isn't called Babes in Troyland.
"Our recovery depends on access to quality, affordable child care. Our state economic recovery depends on us getting this right."
The details of the legislation are still in flux, but both Republicans and Democrats seem confident that a bill is going to pass.
Here's where the money is slated to go.
Almost $650 million, nearly half of the funding, will go to grants for childcare providers with "new and expanding sites in communities without adequate child care." The subsidy for those providers will also go up by 20 percent.
Some of the funds will also be used to expand eligibility for subsidized care from up to 150 to up to 200 percent of the federal poverty level. That means the threshold for receiving a subsidy will go from $39,300 to $53,000 for a family of four. This change would make discounted or free child care available to 150,000 more Michigan kids through September 30, 2023. After that, the threshold will go down to 160 percent, or $41,290 for a family of four.
The legislation would also make it easier for parents enrolled in state-subsidized higher education programs to access childcare and provide quarterly $500 stipends to childcare providers through September 2022.
In addition to making it easier for families to access and pay for child care, Whitmer hopes that the law will help the 136,000 Michigan women who left their jobs between February and December 2020—often because they needed to take care of the kids—return to the workforce.
"So as our recovery continues, so should our work center around working moms, who have borne the brunt of economic pain during the pandemic."