Michelle Obama's 'Becoming' Documentary Hits Netflix Next Month
The highly anticipated documentary finally gets a release date—and it's soon.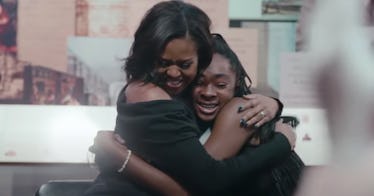 After eight years in the White House, Michelle Obama took some R&R, vacationing to Palm Springs, Richard Branson's island, French Polynesia, and Italy. Post-vacation, she eased back into regular life by…writing the bestselling book of the year.
To promote the book, a memoir titled Becoming, Obama went on a 34-city tour. That tour is the basis for a new documentary, also titled Becoming, that's coming to Netflix next Wednesday.
The film is directed by Nadia Hallgren, a Bronx-born documentarian whose previous work includes directing She's the Ticket, a limited documentary series about female candidates, and helping to shoot the CNN documentary We Will Rise: Michelle Obama's Mission to Educate Girls Around the World.
In a first look at the film, Obama says that the purpose of the tour isn't just to sell books; it's also to have "some longer experiences with young people" like the young Philadelphians she spoke to in the clip.
For her part, Hallgren says that using her experience as a cinema vérité cinematographer, she aimed to create a film that felt intimate and captured the "magic that happens when people meet [Obama] — an afterglow and a boost in confidence."
The film is a production of Higher Ground, the company the Obamas formed post-presidency that signed a huge deal with Netflix. American Factory, the first film it released on the streaming service, won the Oscar for Best Documentary feature earlier this year.
Becoming will be available to stream on Netflix on May 6.