Michael Jordan Had a Lot to Say About Kobe Bryant in 1998
Greatness recognized greatness.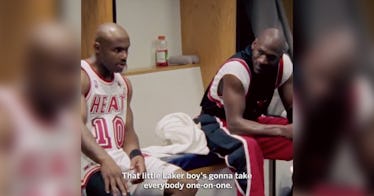 Turns out, Michael Jordan thought Kobe Bryant was the jam way back in the day.
Before the 1998 NBA All-Star game, Michael Jordan shot the shit with his Eastern Conference teammates. It would be his final All-Star appearance as a Chicago Bull, but the topic of conversation isn't All-Star weekends past or the goings-on in the NBA that year. Instead, Jordan shared his thoughts on the 19-year-old Laker making his All-Star game debut that night.
Kobe Bryant might have been the youngest player in the NBA at the time, but a clip from the fifth episode of The Last Dance proves that he'd earned the attention of the best player in the league.
"That little Laker boy's gonna take everybody one-on-one," Jordan said. "He don't let the game come to him. He just go out there and take it." The tone of Jordan's voice had the unmistakable swagger of a guy who'd won five rings in seven years — he can call another NBA star a "little boy" whenever he wants to — but it also betrays the respect he had for Bryant's ability to dominate.
"I'm going to make this shit happen. I'm going to make this a one-on-one game," Jordan continued, narrating Bryant's attitude towards the game, one not dissimilar from Jordan's own.
Someone else brings up a time when Bryant kept shooting after missing the first four shots he took in a game, and Jordan doesn't miss the opportunity to have a laugh at the youngster's expense.
"After the first four attempts? If I was his teammate, I wouldn't pass him the fuckin' ball!" Jordan said. "You want this ball again, brother, you better rebound."
The episode also included never-before-seen footage from an interview Bryant did for the documentary in which he expresses his own appreciation for and admiration of Jordan. But it's this clip that best encapsulates the eventual passing of the torch from Jordan to Bryant.
That night, Bryant led the Eastern Conference All-Stars with 18 points. The only player to score more than him? Jordan, who paced the field with 23.
This article was originally published on