Meghan Markle's Major Court Battle Win Is a Win For Parents Everywhere
"I share this victory with each of you—because we all deserve justice and truth, and we all deserve better."
by Isabella Bridie DeLeo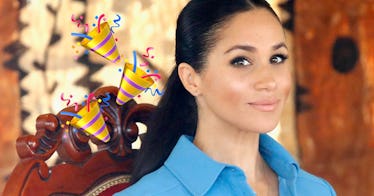 GETTY
The British press and the Royal Family have long had a strained relationship, at best, and an embittered one, at worst. But, this week has had some good news in store for Meghan Markle and Prince Harry in their legal battles to protect their family against privacy and copyright infringement cases against various paparazzi agencies. Markle has just scored an important victory in her copyright infringement and privacy case against the Mail on Sunday publisher Associated Newspapers — and we should all be celebrating.
The Sussexes recently won a privacy settlement in December against Splash News UK for taking and publishing images of Meghan, Harry and baby Archie during "a private family outing in a remote rural setting" in Canada. In addition, Markle has also been pursuing legal action against the publishers for, in 2019, printing out portions of the private letter she sent to her father about her wedding. Judge Mark Warby, who granted summary judgement in Markle's favor, said, "had a reasonable expectation that the contents of the letter would remain private. The Mail articles interfered with that reasonable expectation," as per People.
Warby also ruled on Thursday, Feb. 11 that the Mail infringed on the copyright in the letter. It is, however, yet to be determined whether Markle is the sole owner of the copyright in the letter, or if she is a co-owner of it, since there have been allegations that the tabloid edited some of the contents of the letter. Warby explained, "There is no room for doubt that the defendant's conduct involved an infringement of copyright in the Electronic Draft of which the claimant was the owner or, at worst, a co-owner." This is terrific news, not just for Markle and her family, but for all who have witnessed how the British paparazzi have treated the Royal Family over the years, from Markle to Princess Diana.
In a response to the decision, Markle said that she is "grateful to the courts for holding Associated Newspapers and The Mail on Sunday to account," according to People. She continued, "For these outlets, it's a game. For me and so many others, it's real life, real relationships, and very real sadness. The damage they have done and continue to do runs deep," adding, "The world needs reliable, fact-checked, high-quality news. What The Mail on Sunday and its partner publications do is the opposite. We all lose when misinformation sells more than truth, when moral exploitation sells more than decency, and when companies create their business model to profit from people's pain."
Markle went on to say, "But for today, with this comprehensive win on both privacy and copyright, we have all won. We now know, and hope it creates legal precedent, that you cannot take somebody's privacy and exploit it in a privacy case, as the defendant has blatantly done over the past two years. I share this victory with each of you—because we all deserve justice and truth, and we all deserve better." Markle is right, and we're happy about this crucial win.
This article was originally published on