Meghan Markle's Baby Is Due Way Sooner Than She Revealed
Baby #2 is just a few months away!
by Isabella Bridie DeLeo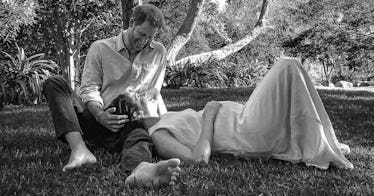 @misanharriman instagram
What's better than some Royal baby news—and some delightful updates? If you've been following the latest from the Duchess and Duke of Sussex, you probably already know that Meghan Markle and Prince Harry have announced the joyous news that baby #2 is on the way on Valentine's Day. Plus we're also happy to write that new information has just come in about when Archie's little sibling is due, and it means that the Duke and Duchess' family will be expanding sooner than the public initially thought.
US Weekly shared the news, writing, "Harry and Meghan have always wanted a couple of kids — a little brother or sister for Archie, and they're excitedly planning for the arrival of their bundle of joy. It's a dream come true…. Meghan fell pregnant again toward the end of last year. The baby is due at the end of spring." This means that one-year-old Archie can look forward to a baby sibling in just a few months. And according to a rather succinct statement from Buckingham Palace, which has also now confirmed that the couple has given up all royal duties as per The New York Times, "Her Majesty, [the] Duke of Edinburgh, [the] Prince of Wales and the entire family are delighted and wish them well."
Meghan and Prince Harry shared the pregnancy news a few months after Meghan published a resonant op-ed in The New York Times called "The Losses We Share" about her experience suffering from a miscarriage and also more broadly about empathy and the collective loss that marked 2020. Photographer Misan Harriman shared Meghan's pregnancy news in a stunning and symbolic photo. Harriman wrote, "Meg, I was there at your wedding to witness this love story begin, and my friend, I am honoured to capture it grow. Congratulations to The Duke and Duchess of Sussex on this joyous news!"
This article was originally published on