The Price of Meat Is Spiking. Here's What the White House Is Doing About It
Massive meat processors are squeezing farmers, ranchers, and consumers. The Biden administration wants to stop them.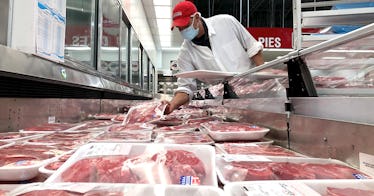 GETTY
Half of the price increases for food at home since December 2020 have come from meat, and the cost of food is squeezing Americans' budgets. The price of beef is up 14.0 percent, pork 12.1 percent, and poultry 6.6 percent since then.
And while factors like increased demand and COVID disruptions are part of the problem, the Biden administration says that corporate greed enabled by the consolidaiton of meat processors is mostly to blame. It's promising "bold action" to make food more affordable and the industry more equitable for working families.
Three members of the president's National Economic Council penned a lengthy blog post outlining the problem and a potential solution. Four conglomerates control the majority of the market for all three kinds of meat, and they've all been raising prices and generating record profits during the pandemic, to the harm of workers and consumers.
As evidence, they point to data showing that while the price of cattle has hovered around $2.50 per pound since 2016, the wholesale price of beef has increased from a little over $3.00 to a little over $4.00. These increases have powered record gross profits—and large dividends and buybacks—for many of the leading beef, poultry, and pork processors.
The three economists promised four actions from the Biden administration that they say will "build back a better food system that is fair, competitive, distributed, and resilient."
Most directly, they promise to "crack down on illegal price fixing, enforce antitrust laws, and bring more transparency to the meat-processing industry." The USDA is conducting investigations into price-fixing across the industry, publishing new market reports on what beef processors pay, and strengthening rules for meat labeled "Product of USA."
To aid the farmers and ranchers who've been hurt by the anticompetitive actions of meat processors, the USDA is doling out $1.4 billion in pandemic assistance, half of which is reserved for smaller operators who've yet to receive any federal pandemic aid. There's also $700 million for frontline worker relief payments and $500 million to expand local and regional meat and poultry processing capacity to foster comeptition with the large firms.
Rounding out the administration's efforts are new and renewed efforts to address climate change disruptions that affect agriculture and collaborating with members of Congress who are seeking to make cattle markets fairer and more transparent.
If these measures and implemented and successful, they should eventually translate into lower prices at the grocery store—something every parent will appreciate.