Matthew McConaughey Shows Off Peak Dad Dance Moves During Fallon Appearance
He may be cool, but he's not above laying down some dorky dance moves.
by Isabella Bridie DeLeo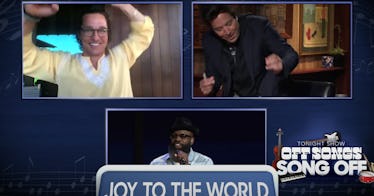 NBC
The rumors are true: Matthew McConaughey is A Very Cool Dad. But even though he is very cool, he still has some dorkiness in him just as everyone does, and, somehow that even makes him a little bit cooler. I don't know, I don't make the rules. The Dallas Buyers Club star recently spoke to Jimmy Fallon on The Tonight Show to promote his new memoir, Greenlights (although we might have guessed a different title, maybe one with three "alrights.") In the interview, McConaughey talked about the very cinematic moment that he decided to put pen to paper.
He said that he'd been keeping journals for a whopping 38 years (for reference, he's 50). He stored them in a "treasure chest" and always lingered on the idea of sitting down and turning the thousands of pages stored there into a book. One day, when he had some free time in his schedule, he looked at the treasure chest, which he felt was almost "staring" at him, and he began writing in a sort of "solitary confinement." But he got great initial encouragement from his wife, Camila Alves, who told him, "You know what you gotta do. Get your ass outta here, take that treasure chest, and don't come back. Go write it on your own." That's the kind of writing advice everyone needs. The result: Greenlights, which focuses on the life lessons he's learned.
But the good stories don't stop there. McConaughey played a game called "Off Songs Song Off" with The Roots and Fallon, where McConaughey put his terrifically bad dance moves on display. Mostly, he'd bob his head in tune to the beat or kind of wave his hands from side to side. It's definitely dorky, but, and perhaps it's just because he's so good looking, also endearing. However, just when you begin to think that he's just an average dad for a second, he tells you something incredible. As The Roots play a rendition of Joan Jett's "I Love Rock 'n' Roll," he says that he once saw her play a small concert in 1984 in Louisiana, where there was a monsoon. Apparently, despite, or because of the monsoon, the crowd swam across a muddy bayou to get on stage with her and Joan Jett "got completely into it." At that, Fallon just kind of looked at McConaughey in awe, as one might. Despite the very dad dance moves, he's still Matthew McConaughey after all.
You can watch his not-so-amazing dancing below.
This article was originally published on