Matthew McConaughey Will Play Hank the Cowdog in a New Family Podcast
It's based on a long-running children's book series set in, where else, Texas.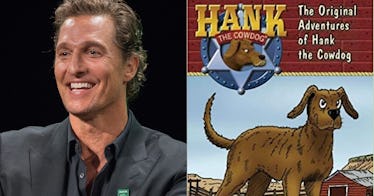 Getty / Maverick Books
Matthew McConaughey will lend his silky Texas twang to a new podcast based on the Hank the Cowdog series of children's books. The author, actor, and part-time bingo caller will star as the title character and executive produce the five-episode series. Jesse Plemons, Cynthia Erivo, Kirsten Dunst, Leslie Jordan, Joel Edgerton, Scoot McNairy, and John R. Erickson will co-star.
The podcast will follow Hank the Cowdog as he tries to solve the mysteries that pop up around the cattle ranch in the Texas panhandle he calls home. As the self-declared "Head of Ranch Security," the proud but inept Hank will be joined by his trusty sidekick Drover, a smaller mutt voiced by Plemons, and what a press release calls "a motley assemblage of characters."
Interestingly, the 28-year-old series has seven audio-only installments to go along with the 74 (!) book titles, each of which is also available on audiobook. The series was previously adapted into an episode of the TV series CBS Storybreak, each episode of which was adapted from a different children's book, in 1985.
HTC Productions, one of the companies behind the podcast, attempted to adapt it into an animated TV series in 2015. It appears that only a single 11-minute episode was ever produced, however, so a new effort in a different medium with A-list talent attached makes sense for the company and John R. Erickson, the creator of the series who, like Hank, hangs hit hat in the Texas Panhandle.
Hank the Cowdog will be available on all major podcast platforms on September 14. You can hear McConaughey as Hank in the trailer for the series here.
This article was originally published on