Matt Damon Is Riding Out the Pandemic As a Small Town Irishman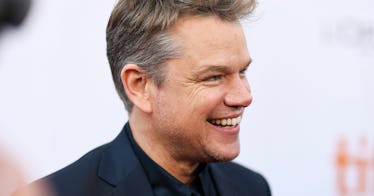 Getty
Matt Damon headed to Dalkey, a seaside town nine miles southeast of Dublin, to shoot scenes for The Last Duel, a historical drama set in 14th century France. That was in mid-March, just before Ireland implemented strict measures to slow the spread of COVID-19.
Faced with a choice between heading back to his Brooklyn apartment and sheltering in "Ireland's Amalfi Coast," Damon chose the latter. A delightful New York Times piece shows that he's quickly gone from local curiosity to protected member of the community of 8,000.
Like the rest of Dalkey, Damon and his family have to stay within two kilometers of their home. Unlike the rest of Dalkey, their home is a rented mansion near the homes of Irish royalty like Bono and Van Morrison. Their common experience coping with the coronavirus has inured Damon to the locals, who are now "rallying against a new common enemy: outsiders who ask too many questions about their Matt O'Damon."
Seriously. That's what they call him. But not to his face, it would appear.
According to the Times, when residents run into Damon, he smiles and they pretend that he's not a movie star. "I think it's an Irish thing," local Denise Deegan said. "We don't want anyone who is a celebrity to think that we are in any way sycophantic."
For his part, Damon seems content with life as just another Dalkeyan. He's been spotted jogging, carrying a bag from the local market, and even popping into the pub before it closed down. Damon is going about his business the way the locals do, cultivating a sense of normalcy that's made them protective of him.
For instance, Cornelius Hibernis O'Flaherty (what a name!) wrote on Facebook that "Dalkey is surrounded by the sea and in these bright and sunny lockdown days with the air fresh and the birdsong everywhere, Matt and his family should be left alone to enjoy time out amidst the natural Spring splendour."
So while everyone is ready for the coronavirus restrictions to end and life to return to normal, both Damon and his new neighbors are content to ride out the storm together in the meantime.