Everything You Need to Know About the Marshall Plan for Moms
Fifty powerful women are putting pressure on the Biden administration.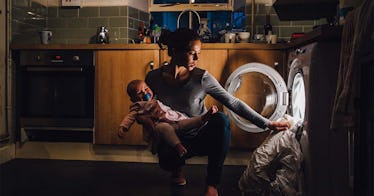 COVID-19 has done a number on the economy, and working women have borne more than their fair share of the economic losses for two principal reasons. First, the industries that employ more women (e.g. hospitality, retail, healthcare) were hit particularly hard by the pandemic. Second, the closure of childcare centers and schools en masse has meant that mothers, who tend to provide the majority of childcare, have felt more pressure to leave the workforce to take care of the kids.
Women have left the workforce in huge numbers. Between February and August, mothers of children 12 years old and younger lost 2.2 million jobs compared to the 870,000 jobs lost by fathers. A report from the Dallas Federal Reserve made it clear that it's even worse for women of color, as 6.4 percent of Black mothers have left the workforce compared to 2.4 of white mothers.
In the pre-pandemic months of 2020, American women actually held more jobs than men, something that had happened only once before in American history. By December, women lost 156,000 jobs while men gained 16,000. In 2020, men lost one million fewer jobs than women did. The pandemic crushed decades of slow work at wage and labor equality in a matter of months, and it could take decades for them to recover.
In light of this situation, a coalition of 50 female CEOs, actors, and activists are calling on Joe Biden to do something about this problem, one that existed before the pandemic and was torn open by it. The group, led by former political candidate and Girls Who Code CEO Reshma Saujani, placed a full-page ad in the New York Times on Tuesday and published op-eds in The Hill and The Independent. (Disclosure: My wife is a former Girls Who Code employee, and I met Saujani once.)
What Is The Marshall Plan for Moms?
promisedgather more pay datachild tax credit
Are there concerns with the Marshall Plan?
the Romney-Bennet planAmerican Child Benefit