New Census Data Shows U.S. Set Record Marriage Rate Low Last Year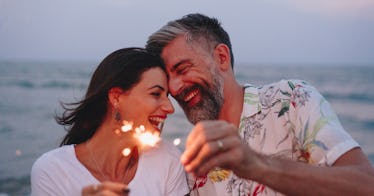 When it comes to the health of American marriages in the United States, there's good news, and there's bad news.
Fewer Americans are married than ever, leading to a dip in the marriage rate in the U.S. The marriage rate decline hit an all-time low last year, with just 33 of every 1,000 unmarried adults tying the knot as opposed to 35 in 2010 and 86 in 1970. That means more people are missing out on the benefits of marriage — and that the marriage rate has dropped so much that people are concerned.
The gap in the marriage rate in the U.S. between the rich and the poor is also widening in a concerning way. Poorer Americans are disproportionately struggling to enjoy the benefits of marriage, while college-educated and richer Americans are more likely to get and stay married. Poorer Americans are more likely to experience family instability. Sixty-four percent of Americans in the top-third income bracket are in an intact (first) marriage, but only 24 percent of those in the bottom third are. This so-called "marriage divide" is yet another way poor Americans are suffering.
Finally, COVID-19 hasn't exactly been great for the institution. There is some evidence that it brought some couples closer together, but it's more than counterbalanced by Americans postponing their weddings because of the pandemic. "Can't afford a wedding" and "not having a stable job" were top reasons today's singles aren't married, and the pandemic has and will continue to exacerbate these problems as millions become unemployed.
But when it comes to the marriage rate, it's not all bad news. For every 1,000 marriages in America in 2019, only 14.9 ended in divorce. That's the lowest rate since 1970 when it was 15.0. There's been a corresponding increase in the median duration of current marriages, up from 19.0 years in 2010 to 19.8 in 2019. This, however, might also be due to COVID-19 as law firms are only taking on the most necessary of cases or because people can't get to offices to file for divorce as COVID skyrockets across the country.
These numbers come from the newly released American Community Survey, an ongoing demographic study conducted by the Census Bureau. Unfortunately, as an analysis by the Institute of Family Studies found, there are plenty of reasons to believe that these rosy figures don't completely describe the current state of the institution.
The bottom line is that marriage, like leisure time and the healthcare system, is working well for those of means but simply isn't as accessible for those without. It's disturbing to think that an ostensibly democratic institution—everyone can get married!—is being so unevenly enjoyed. While the increased resiliency of existing marriages is good, it can hardly be argued that a record low marriage rate and the widening marriage divide supports the claim that the institution itself is in a good place.