Mark Wahlberg Getting His Nails Done By His Daughter In Quarantine Is Perfect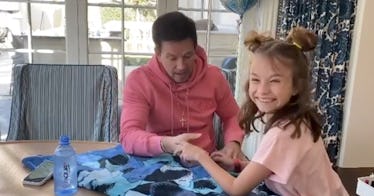 Mark Whalberg/Instagram
Mark Wahlberg has an impressively diverse resume, from boy band rapper to twice Oscar-nominated actor to hamburger restauranteur. And now you can add nail art model to the list.
Like lots of parents, Wahlberg is doing everything he can to keep his kids entertained while his family quarantines. Getting his nails painted by ten-year-old daughter Grace was one such distraction, and he posted a brief video of the amateur beauty treatment to Instagram for the world to enjoy.
"You're painting my hand!" Wahlberg exclaims as Grace gets to work applying the polish, gleefully smiling at his discomfort.
"OK so 15 days into quarantine now I'm getting a pedicure, manicure, and apparently full makeup. She's got her whole kit there, yeah this is what's happening now, so, uh, yeah."
Wahlberg shared even more of his impromptu makeover on his Instagram story, where he continued to tease his daughter about her handiwork.
"I don't know if you're gonna have a career in this," he said as she continued to paint, and when she finished the job — a different color on each hand, of course — he kept up the schtick.
"What the heck are you doing? This is a hack job! Are you good at this? Have you ever done this before? Oh, my God!"
Wahlberg is a notoriously macho dude. He has his own brand of protein powder and was an executive producer of the HBO bro classics Entourage and Ballers. But in 2020, it's OK for a dude's dude to don his pinkest hoodie and let his daughter give him a makeover on the internet because being a good dad isn't a sign of weakness.
This article was originally published on