'Mario Kart Tour' Has Arrived. Here's How to Get the Upgraded Version for Free.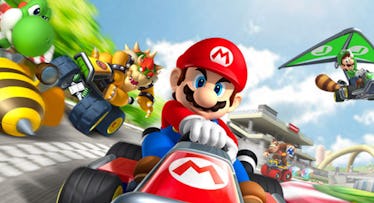 There's no shortage of ways to waste time on your phone, from scrolling through the infinite streams of social media to doing puzzles to watching something dumb on Netflix. But even though we don't need another distraction, it's hard not to be excited that Mario Kart is finally—finally!—available for iOS and Android.
Mario Kart Tour, as the phone version of the game is known, takes the gameplay you know and love from the console titles in the series and brings it to the de facto console you carry around in your pocket all the time.
Gameplay is dead simple and fairly similar to other racing games. You simply drag your finger across the screen to steer and tap to deploy items. It's not the most advanced Mario Kart experience out there, but it's definitely the most convenient way to launch a blue shell on the go.
The game includes both courses inspired by classics like Rainbow Road and new ones modeled after world cities, hence the "tour" modifier in the title. These tours will last two weeks, adding a psychological nudge that Nintendo hopes keeps folks playing.
When you download it, you unlock a character and go through a tutorial to get used to the controls. You have the option of standard or drift steering; the latter gives you more control but makes it much easier to drive off the road if you're not careful.
The game will also feature its own currency to be spent on parts and drivers and in-app purchases including Gold Pass, a $4.99-per-month subscription. Nintendo says it will let players "unlock the extra-fast 200cc mode, obtain additional in-game rewards from racing and gain access to bonus goals exclusive to Gold Pass holders." A two-week free trial is currently available if you want to give it a shot.