These Maps Show The Most Popular Fast Food In Every Country
America loves a fast food brand that... isn't what you think, actually.
by Isabella Bridie DeLeo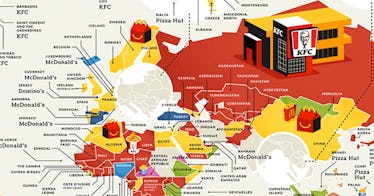 Have you ever wondered what the most popular fast food is in every country? Or the most favorite brand, or smartphone company, or retail service?
New maps from BusinessFinancing illustrate which companies every country loves the most — from Mickey D's to Lululemon to KFC. (Gamestop, though in the news, is not on this list). And what you might find as the most popular food, company, and brand in every country may surprise you.The company examined data from the past year to determine which mega-companies are the most popular country-by-country by determining which products and services were the most Googled in each country.When it comes to the most popular consumer brand around the world, it's not shocking that the most Googled brand is, well, Google. (Although this might be more of an example of how dumb people are when they use the internet more than anything else.) Still, it was the most popular in 100 countries. Netflix came in second, as it was the most popular in 45 countries across the globe. Pampers made the list too, although it's considerably less popular around the world than the top five giants of consumer brands, which included Amazon, eBay, and IKEA, in addition to Google and Netflix. In terms of fast food, McDonald's was the most popular around the world, followed by KFC, Pizza Hut and Baskin-Robbins, and Domino's. Baskin-Robbins? Really? Somewhat surprisingly, Pizza Hut was the most searched fast food company in the U.S. according to this list, not Mcdonald's. In the gaming sector, Epic Games was the most popular, followed by Nintendo, Gameloft, Atari, and Activision. For smartphones, Apple came in first place, with Huawei, Xiaomi, Vivo, and Alcatel-Lucent trailing behind. However, even though Apple took the top spot for searches, Huawei and Xiaomi had more overall sales. To look fashionable and comfy during the COVID-19 pandemic, it looks like more people were searching for Nike gear above any other brand, although H&M, Zara, Adidas, and ASOS were also popular. Canadians seemed especially interested in Lululemon.
This article was originally published on