This Map Shows Every State's Favorite Unique Christmas Treat
Including which pair of states seem to love fruitcake.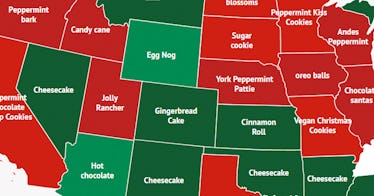 Zippia
As trees are trimmed and lights are strung, kitchens around the country are filled with the smells of Christmas treats. But there's a big difference between the states, as very different desserts are popular in different parts of the country.
A new analysis of data from last December shows which holiday treats people in individual states are disproportionately searched for on Google. If one assumes that search engine traffic for holiday treats has some relationship with which holiday treats people prefer, it identifies the holiday treat that is disproportionately popular in each state.
So while standard Christmas sugar cookies are probably the most popular treat in many states, they don't appear on this map except for in one state simply because they are so broadly popular. What the map does show is just how varied the holiday treat landscape in the United States is. The colors on the map represent different types of treats: light red is cookies, dark red appears to be candies, green is cake varieties, and light green is sweet drinks. White is, of course, pudding, which is extremely popular in four states, for some reason.
Twenty states eat a disproportionate amount of some kind of cake, which ten others prefer cookies. Twelve eschew baking altogether for the convenience of candy.
Indiana, Kentucky, Tennessee, and Louisiana had abnormally high search traffic for pudding, which feels downright anglocentric. Liquid libations were the unique choice in two states, Arizona (hot chocolate) and Wyoming (egg nog).
And in case you were wondering, the much-derided fruitcake appears to be more popular in both of the Carolinas. Why? We are not sure, but if it makes Carolinians happy in this, the weirdest holiday season in memory, it's fine by us.
This article was originally published on