This Map Shows Where Parents Aren't Vaccinating Their Kids
Plus, the state with the highest percentage of anti-vaxxers.
by Amanda Tarlton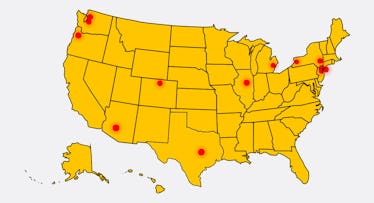 Amid a rash of measles outbreaks, experts continue to remind people that vaccines are the most effective to prevent deadly diseases. However, there's still an alarming percentage of parents who refuse to vaccinate their kids—and in a recent study, BlueCross BlueShield identified the top anti-vaccine hotspots across the U.S. in 2018.
Nassau, N.Y. is the worst offender, with its rate of unvaccinated kids at a staggering 14.2 percent, well above the national refusal rate of just 3.3 percent. New York law requires vaccination but allows for medical and religious exemptions. And in Nassau County, there's a large Orthodox Jewish population, who are notoriously anti-vaccine for religious reasons.
Three other New York cities (Poughkeepsie, New York City, and Buffalo) also made it into the top 10. Currently, the outbreak in New York has lasted longer and infected more people (275 confirmed) than any other outbreak in the U.S.
Other states with multiple cities on the list were New Jersey (Bergen and Newark) and Washington (Seattle and Tacoma). Washington was one of the states to declare a state of emergency following a January outbreak.
And while the national vaccination rate remains high, many are concerned about the increase in the number of kids who aren't vaccinated. According to data from the CDC, the percentage of unvaccinated children under the age of two has quadrupled since 2001.
"As larger unvaccinated populations grow, particularly in highly mobile cities, the potential for vaccine-preventable disease outbreaks grows," explained Peter Hotez, a professor at Baylor College of Medicine who ran a similar study in 2018 that analyzed vaccination rates in different states.
So far in 2019, the number of measles cases in the U.S. has soared to 314, compared to just 372 in all of 2018. The CDC reports that the following 15 states have confirmed outbreaks of the highly contagious disease:
Arizona
California
Colorado
Connecticut
Georgia
Illinois
Kentucky
Michigan
Missouri
New Hampshire
New Jersey
New York
Oregon
Texas
Washington