This Map Shows The States That Are Most Obsessed with Christmas
And also Grinchiest states in America.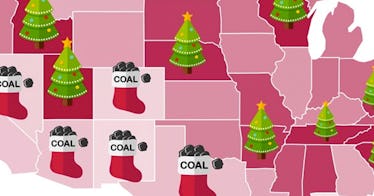 Century Link
Utah, Idaho, and Washington are the most Christmas-loving states in the union while Alaska and Hawaii are the Grinchiest, according to a new analysis from data scientists at CenturyLink who, like Santa, looked at a diverse array of factors in coming up with their list.
Their analysis of which states are the most Christmas-obsessed came from a variety of data points. Google searches for Christmas movies and gingerbread houses formed 29 percent of the final scores. Online shopping, measured via Google Shopping Trends, for wrapping paper, Christmas cards, and ornaments, and the maligned Elf on a Shelf accounted for 28 percent of Christmas love. Christmas music streams and tweets were collectively 21.5 percent, while Christmas tree farms per capita (seven percent) and IRS charitable giving figures from the last tax year (14.5 percent) rounded out the scores.
The Carolinas rounded out the top five, which kind of makes sense given that they are the only states disproportionately interested in the much-derided but definitely Christmasy fruitcake.
Arkansas came in at number 10 thanks to its highest-in-the-country charitable giving, but that's likely because having a family of billionaires (the Waltons) in an otherwise not very populous or prosperous state can skew the numbers. Additionally, caveats should also be made for states that are too small or have climates that can't support Christmas tree farms, a factor that definitely helped Hawaii rank 49th, Florida 50th, and the District of Columbia at the bottom in 51st place.
With a few exceptions, the map does show that states where there's at least a chance of a White Christmas tend to be merrier, according to this data. But even though this data is cheery, we still might take Hawaii's tropical temperatures over the dead of winter.
This article was originally published on