Many Grade School Kids Are Using Social Media, Poll Shows
A new poll shows a third of 7 to 9-year-old kids are using social media.
by Ethan Freedman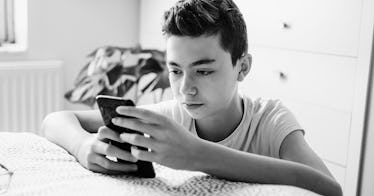 Everyone is on social media — from grandma to your hipster cousin. So are kids as young as seven years old, according to a new poll from the C.S. Mott Children's Hospital at the University of Michigan. These results bring up questions regarding data privacy and parental controls in a childhood spent on the internet.
Also according to the poll, nearly half of kids between the ages of 10 and 12 use some kind of social media. The same was true for almost one-third of kids aged 7-9.
Sarah Clark, a pediatric research scientist at the hospital and one of the pollsters, told Fatherly that while they didn't ask which social media site these kids were on, many were likely on something like Messenger Kids from Facebook, a platform designed for younger children. Sites like Instagram and regular Facebook have a minimum age of 13 years old — though admittedly they are very easy to get around if kids simply lie about their age.
Of the kids on social media, most of their parents — 83% of them, to be exact — reported using some kind of parental control, the poll found. These include time limits, privacy settings, blocks, and passwords. But many parents also faced difficulties regarding those parental controls, from not knowing how to set them up to their kids circumventing them. In addition, many parents were concerned with online safety for their kids, such as with unwittingly sharing private information or running into adult content.
Clark also notes that we're just starting to learn the impact of social media on issues like body image in teens, and she doesn't want younger kids to be left out of that conversation. The poll notes that things like misinformation and body image issues can be hard in adults too, and parents should help kids understand that not everything they see online reflects reality.
A majority of parents were at least somewhat discerning in which apps they let their kids use. Over half wanted to know if the app was appropriate for kids that age or necessary for school, and almost three-fourths took into account whether an app had parental controls, the poll found. But they also found that just 60% of parents mandated getting their approval when adding a new contact.
Yet while many kids were active on social media, the good news is that many weren't.
A little over half of kids aged 10-12 and 68% of kids aged 7-9 reported having no social media presence. And for most kids that age, that's probably fine — kids should be encouraged to spend time offline and interact with friends and family in person when possible, and many experts want kids to join the internet as late as possible.
In addition, 35% of the kids were taught specifically about social media safety in school. Clark says that she's interested in how schools can be a way to educate both children and their parents on navigating social media safely.
For those kids who are on social media, Clark says that parents have a responsibility to guide them through it. She recommends using the parental controls as much as possible to reduce privacy risks, in addition to following what their kids are seeing on social media so parents can help kids understand to interpret the images and information they come across. For a full suite of resources on internet safety, check out Fatherly's Parent's Guide to Keeping Kids Safe Online.