Son is Suing Parents Because He Did Not Consent to Being Born
"They had me for their joy and their pleasure."
by Amanda Tarlton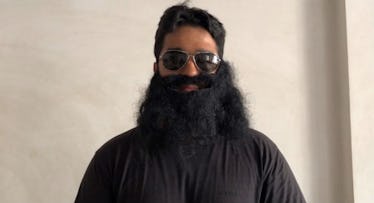 Nihilanand/Facebook
One man plans to sue his parents because he was born without giving his consent. As an anti-natalist, Raphael Samuel of Mumbai says that he believes births are unfair to children, forcing them to live a life they didn't ask for.
"I love my parents, and we have a great relationship, but they had me for their joy and their pleasure," Samuel told The Print. "My life has been amazing, but I don't see why I should put another life through the rigamarole of school and finding a career, especially when they didn't ask to exist."
The 27-year-old isn't alone in his anti-natalist beliefs. It's a growing movement in certain areas of the world, including India where Samuel lives, as more and more young adults are starting to fight the societal pressure to have kids. His Facebook page on the subject, Nihilanand, even has over 2,200 followers.
"Other Indian people must know that it is an option not to have children, and to ask your parents for an explanation as to why they gave birth to you," he explained to The Print.
And now his mom has responded to the potential lawsuit with a Facebook post. According to The Daily Mail, Kavita Karnad Samuel said that she will accept fault "if Raphael could come up with a rational explanation as to how we could have sought his consent to be born." She added that, "I must admire my son's temerity to want to take his parents to court knowing both of us are lawyers."
This article was originally published on