Mall Santa and Mrs. Claus Might Have Given 50 Kids COVID-19
The Claus family tested positive two days after a mall event.
by Isabella Bridie DeLeo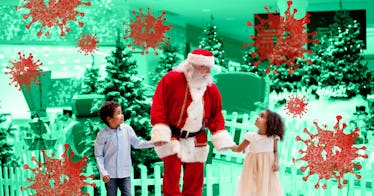 Before the COVID-19 pandemic, Santa and Mrs. Claus could often be spotted at malls and Christmas parades throughout the country, and they'd usually be happy to greet kids during the holiday season and listen to their Christmas wish lists. These days, these meets look different with some online and some over the phone. Unfortunately, despite Dr. Fauci's optimistic suggestion a few weeks ago that Santa is immune to the novel coronavirus, sadly, it looks like the holiday spirit can't even protect the Clauses from COVID-19. And now, Santa is probably in quarantine.
One recent meet-and-greet with the North Pole's most famous family this year turned out to be potentially dangerous amid the pandemic. At a mall photo-op and parade on Thursday, Dec. 10 in Long County, Georgia, it looks like Santa may have exposed up to 50 children to COVID-19 after the Clauses tested positive the Saturday two days after the event, according to NBC News. The Clauses didn't exhibit symptoms on the day of the meet-and-greet.
In a statement, Robert D. Parker, the chairman of the Long County Board of Commissioners, wrote, "While this is cause for concern, I feel that it is important to note that exposures happen every day as we go about our day to day lives, often without any knowledge," in an effort to probably downplay the virus, console the understandably concerned family and community members. However, Parker added that he "still stand[s] by the decision of the Chamber to move forward with these holiday traditions, and to bring some sense of normalcy to these trying times."
While many are experiencing so-called "pandemic fatigue" as we approach the end of 2020, it's important to remember that COVID-19 is still surging across the country and that events such as holiday meet-and-greets could become potential sites of transmission especially if folks are not socially distancing or wearing masks. As of Wednesday, Dec. 16, the U.S. has seen more than 16.8 million total COVID-19 cases and over 300,000 deaths, according to The New York Times. Georgia has reported over 530,000 total COVID-19 cases, and Long County has reported 383 local cases.