Looney Tunes Is Returning With Completely New Episodes
Looney Tunes are coming back in 2019 with a new format and 1,000 minutes of content.
by Raz Robinson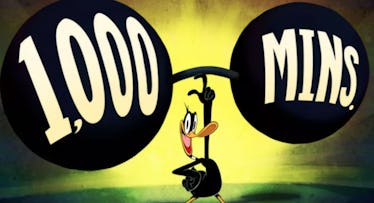 Warner Bros. Animation.
Looney Toons features inarguably some of the most recognized cartoon characters of all time. And while their heyday as supremely relevant fixtures in pop culture has come and gone, Warner Bros. Animation knows that people still love them. Which is why it's bringing them back with a series of new shorts called Looney Tunes Cartoons in 2019. And the best part? There's no need to purchase another streaming service. The series will air in various television and internet forums.
While various streaming platforms are slated to reboot classic television shows like She-Ra (Netflix) and The Adventures of Rocky and Bullwinkle (Amazon Prime) using a traditional 20 minute-ish storytelling format, the new Looney Tunes is opting instead for a series of shorts, each dedicated to a hallmark character just doing their thing. Though we don't know exactly how many episodes to expect, they'll run anywhere from one to six minutes in length and the entire series will consist of 1,000 minutes of content.
While the new shorts may not accrue the same legendary and semi-ironic status as films like Space Jam, by the looks of it, they'll be a step up from the way-less-compelling Looney Tunes: Back in Action. Even better, this isn't the only exciting project in the pipeline for Bugs Bunny and company either. While in retrospect, Space Jam is kind of a terrible movie, it's that really good kind of terrible that warrants another shot more than two decades later. Director Justin Lin (Fast & Furious) and NBA God (yes, that's a capital G) LeBron James have both signed on to respectively direct and star in an upcoming sequel.