Looks Like Trump Cheated to Get Into College
"Operation Varsity Blues" meets the Oval Office?
by Isabella Bridie DeLeo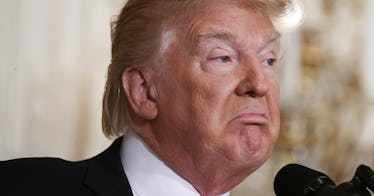 Getty
Donald Trump has referred to his time as an undergrad at the University of Pennsylvania's Wharton business school as "super genius stuff." The problem is, it took more than so-called "genius" to gain admittance to the Ivy League school. In Mary Trump's explosive new tell-all book, due out next week from Simon & Schuster, Too Much and Never Enough: How My Family Created the World's Most Dangerous Man, and a report from the New York Times, the president's sister divulges Trump family secrets, including the alleged truth about how Trump actually got into Wharton. Mary Trump says that Trump paid someone to take his SAT for him. In the book, which other members of the family have tried to stop from being published, she also describes her brother as someone who sees people "in monetary terms" and uses "cheating as a way of life."
Yep, the "Operation Varsity Blues" college admission scandal is officially in the news again, except now it isn't just a celebrity parent bribing a crew coach to get their child ahead–it was perhaps the president. "The high score the proxy earned for him," according to the New York Times, "helped the young Mr. Trump to later gain admittance when he transferred as an undergraduate to the University of Pennsylvania's prestigious Wharton business school."
When scrutiny on the competition for spots increased, some of the nation's top universities, "Operation Varsity Blues" opened a national conversation about privilege in the American educational system. It exposed how some wealthy parents have bought and bribed their children's way into elite universities. As the operation unfurled, resulting in the arrests of Felicity Huffman and former Full House star Lori Loughlin, among others, it prompted a more critical eye on the practices of legacy admissions, athletic recruiting, and standardized testing, which often benefit wealthier families. Ultimately, it was a damning indictment of the myth that achievement alone guarantees a name-brand education.
White House Deputy Press Secretary Sarah Matthews responded to the allegation, writing, "Mary Trump and her book's publisher may claim to be acting in the public interest, but this book is clearly in the author's own financial self-interest. President Trump has been in office for over three years working on behalf of the American people – why speak out now?," as per Business Insider.
Even if the SAT allegation against Trump turned out to be false, based on his educational record and well-connected family, it's clear that the president still benefited from privilege in college admissions. Trump studied at Fordham University for two years before transferring to Wharton, where his brother, Fred Trump Jr., was good friends with James Nolan, an admissions officer at the time, the Washington Post has reported. Does this all maybe mean that a "Operation Varsity Blues"-esque reckoning might one day impact the White House? Right now, you can't remove a President for faking his SATs, but maybe that should change. Or, at the very least, one of Trump's alma maters might want to consider revoking a diploma or two.