Marvel Gives Fans First Look at Loki's Spin-Off TV Show
It sure looks like God of Mischief is headed to the '70s.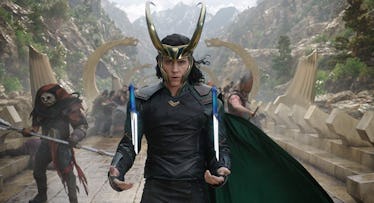 Disney/Marvel
Disney is aiming to make Disney+ an essential, if not the essential, streaming service by taking advantage of its extensive collection of properties. That means a robust selection of old titles like, oh, the entire Disney vault along with new shows inspired by proven franchises that Disney either created or acquired. That's why we have the first-ever live-action Star Wars series, a Monsters, Inc. series, and a slew of shows set in the Marvel Cinematic Multiverse to look forward to. Now, we're getting our first look at one of the most highly anticipated of those Marvel shows, Loki.
Disney just released photos from its Investor Day event, which took place on April 11. It was at this event that the details of the service were announced, and one photo shows Marvel Studios head Kevin Feige — the man as responsible for the MCU as anyone — talking to the audience with an image from Loki behind him.
The photo is frustratingly out of focus, but there are still plenty of clues for Marvel fans to pour over.
It shows a blurry figure resembling Tom Hiddleston — reprising the titular role — walking in front of what looks like an AMC Gremlin, next to the trunk of a less distinctive car with a similarly retro aesthetic. The cars match the vintage coats worn by a man and a woman walking away from the camera.
But the reason we're confident that at least part of Loki will take place in the 1970s is the marquee behind Hiddleston. It reads JAWS in big red letters. Spielberg's fourth film hit theaters in 1975, so the marquee matches the time period of the rest of the clues and offers a bit more specificity.
When we last saw Loki, he was in 2012 New York, a time and place before his death in Infinity War. He teleports away using the Time Stone, a move that, according to Joe Russo, creates a branched reality.
So our best guess is that the series will take place in that reality, one that takes place in the past and, if the Hollywood Reporter is right, will show him as he "pops up throughout human history as an unlikely influencer on historical events."
This article was originally published on