New LEGO Movie Song For COVID-19: "Everything Is Not Awesome"
Your kids need to hear this.
by Amanda Tarlton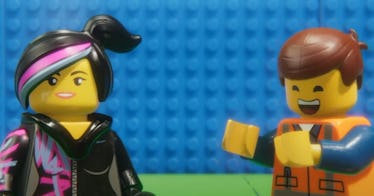 If you're trying—and failing—to get your kids to understand the importance of sanitation and social distancing during the coronavirus (COVID-19) pandemic, fear not—Chris Pratt and Elizabeth Banks are here to help. The stars of The Lego Movie teamed up to release a new song teaching children how to stay safe and clean and why it's more important than ever.
"Darkness has descended upon us. The world as we know it is over," Lucy (Banks) begins. "It is armageddon, it's the apocalypse. Everything is not awesome." She's then joined by Emmett (Pratt) who—after learning that coronavirus is in fact a virus and not a series of books—introduces "the five."
Emmett explains the five simple steps kids should follow: "hands, elbow, face, space and home." That's washing their hands, coughing or sneezing into their elbow, not touching their face, keeping a safe distance between themselves and others, and staying home if they can.
Noting that those steps can be hard to remember, though, Lucy suggests they turn it into a song—to the tune of "Head, Shoulders, Knees and Toes." It's catchy enough that even young kids can follow along as the duo sings, "Hands, elbows, face, and space, stay at home. Don't touch your eyes or ears or mouth or nose!"
The adorable clip concludes with Emmett attempting to give Lucy a hug before he remembers the "space" step. He settles for an air hug, which he and Lucy then give to all the kids watching at home. "Air hugs are the best," he concludes, reminding young viewers of the importance of social distancing.
This article was originally published on