LeBron James Says His Absent Father Inspired Him to Be a Better Dad
James took his anger towards his father and bent it into a tool he could use to influence his own kids positively.
by Raz Robinson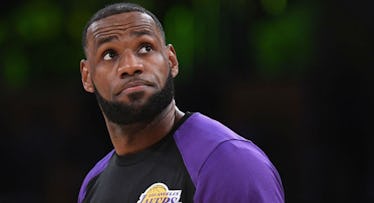 GETTY
One of the most inspiring things about the LeBron James story is the manner in which his rise to NBA stardom has taken place in spite of virtually every set back you can imagine. James has always been candid about the fact that he was born to a 16-year-old sophomore in high school and was abandoned by his father. In a recent interview alongside rapper— and first-time father—Drake, the greatest NBA player in a generation explained how growing up without a dad has pushed him to be an even better father to his three kids.
There has been a fair share of speculation regarding LeBron James' parentage. While his mother, Gloria James, is a very visible force in his life, his father Anthony McClelland, remains a bit of a mystery. Though James spent years, being angry with his dad, as he explains, an empathetic nature has been central accepting what happened to him and using it to be a better dad himself.
"The crazy thing is. My whole life I grew up resenting my father, everything was like 'Fuck pops, he left me. Why would he do that to my mom?' My mom was sixteen years old she's a sophomore in high school when she had me. And I was like if I ever met him, we going to blows right off top," James explained."As I got older and as I became more of an adult, I started to realize and think to myself well 'Damn, what was he going through?'…Was it things that he couldn't control?… He's the reason I am the father I am today. Because I always wanted to set an example and have the father figure in their lives so they never had that resentment"
Looking at James in 2018, it's not hard to see that he is arguably among the most involved famous dads out there. James can be seen on Instagram regularly praising and supporting his children and has never been shy about saying that he puts family first. Even as he made his most recent move from the Cleveland Cavaliers to the Los Angeles Lakers, James was clear that he would gladly stay in Cleveland if that's what his wife and kids really wanted.
This article was originally published on