This Father-Daughter Duo Stole the Show on "The Voice" Last Night
Viral dad Dave Crosby and his three-year-old daughter, Claire, blew the lid off Randy Newman's "You've Got a Friend in Me."
by Ben Marx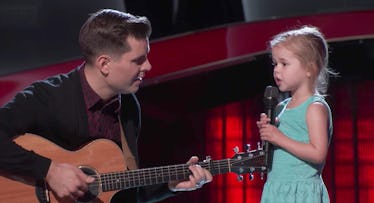 So sorry, Kevin Can Wait. Last night, the best thing on television was the musical duo of Dave Crosby and his 3-year-old Claire. Crosby was a contestant on last night's episode of The Voice and, after the chairs turned around for him, judge Adam Levine asked for a daddy-daughter duet and holy crap was it cute.
Crosby went viral about a year ago when a video of him and his three-year-old daughter, Claire, performing "You've Got a Friend in Me" caught fire. For his Voice audition, Crosby opted for a solo rendition of Death Cab for Cutie's "I Will Follow You Into the Dark" and his smoky tone almost immediately got a vote from Adam Levine. Blake Shelton and Miley Cyrus stuck to their poker faces as long as they could but eventually turned their chairs for Crosby as well.
But it wasn't until he brought Claire daughter on stage that everyone was wowed. After Adam remembered Crosby from his viral video, he asked him to invite his daughter onstage to reprise the song. Claire then rushed out and, after a few minutes, the duo performed a short verse from Randy Newman's Toy Story theme song, with Crosby strumming and Claire singing. As you can see from thave above clip, it stole the damn show.
Crosby posts plenty of videos of his daughter singing under the name Claire and the Crosbys, and here's hoping that she and her dad do many, many more duets. Dave eventually chose Adam as his coach, but here's hoping Claire makes more appearances on The Voice this season.
This article was originally published on