Second Largest School District Will Require Students Get COVID-19 Vaccine
Superintendent Austin Beutner said, "That's the best way we know to keep all on a campus safe."
by Isabella Bridie DeLeo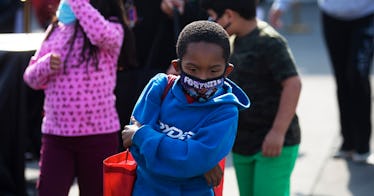 Getty
Los Angeles public school students might be required to get the COVID-19 vaccine when it becomes available to children, reports say.
The COVID-19 vaccine will be a crucial step towards containing the spread of COVID-19 and protecting kids against the virus, of course. And. it will also be mandatory if you want to send your children to in-person classes in the second largest school district in the U.S.
On Monday, Jan. 11, Superintendent Austin Beutner announced that all L.A. students will be required to get vaccinated, saying that the mandate is "no different than students who are vaccinated for measles or mumps," comparing students and staff to those who "are tested for tuberculosis before they come on campus," according to the Los Angeles Times. He added, "That's the best way we know to keep all on a campus safe."
Coronavirus is currently surging in L.A. and pretty much everywhere in the U.S. The county has reported a rolling seven-day-average positivity rate of 20.50% and upwards of 930,000 total cases. According to L.A. Unified, nearly one third of asymptomatic students for some lower-income communities tested positive for COVID-19 during the week of Dec. 14. Los Angeles County's Twitter account shared a sobering fact: "a person now dies every 8 minutes" in the region.
Beutner has not said that schools should be closed for in-person instruction until a vaccine is available for children, which could be a while since trials for FDA-approved Pfizer and Moderna vaccines mostly tested adults. Beutner said that he hopes that students will be able to receive a vaccine "by this time next year." Currently, only a small number of L.A. County schools have been open for in-person learning using waivers, primarily private schools. However, schools have been able to provide in-person instruction for students with special needs and have had reduced enrollment to make campuses safer during the pandemic.
Barbara Ferrer, L.A.'s Public Health Director, has urged school officials to temporarily close campuses for the rest of the month, writing that "The diminishing capacity of our healthcare system to care for the most severely ill among us is at a critical juncture and we all must do what we can." In response, three public schools — El Segundo Unified, Las Virgenes Unified and Palos Verdes Peninsula Unified — said that they would be returning to virtual learning for the time being.
For parents who don't want to vaccinate their children, Beutner said they "will always have the option for a child to stay in online learning and therefore not have to go back to campus."
This article was originally published on