Kumail Nanjiani's Dad Is So Proud He Put His Son's Newly Chiseled Physique on His Socks
Along with the phrase "I AM HIS DAD."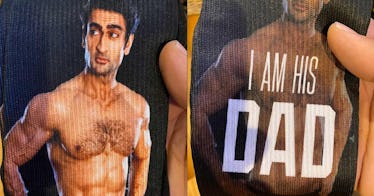 Kumail Nanjiani/Twitter
Parental pride is a powerful emotion. It can make dads breathlessly retell the events of a soccer game played by eight-year-olds, and it can make moms slap a "my child is on the honor roll" bumper sticker on a brand-new car. But some particularly proud parents go beyond these ordinary displays of affection.
Kumail Nanjiani's dad is one such parent. The actor and comedian infamously revealed his new, ridiculously in-shape body in a shirtless photo posted to Instagram about two months ago. His dad was so proud that he had the photo made into a pair of socks. Even better, one side has the words "I AM HIS DAD" printed on it, just in case there was any doubt.
Nanjiani's transformation came after he was chosen to star in Eternals, a new Marvel movie starring Angelina Jolie, Salma Hayek, and Kit Harington in addition to Nanjiani. The film will feature a group of characters making their Marvel Cinematic Universe debuts: The Eternals, an immortal alien race who have lived on Earth for thousands of years.
Being cast in this role is a big step in Nanjiani's career, but it's hardly the first he's taken. There were comedy specials, film roles, a regular spot on an HBO series, and The Big Sick, a critically acclaimed dramatic comedy written by Nanjiani and his wife Emily V. Gordon, modeled on their own relationship. The screenplay was even nominated for an Academy Award.
But as far as we know, none of those accomplishments was sock-worthy. So congratulations on Nanjiani for helping his dad reach a new pinnacle of parental pride, and to his dad for celebrating his son in such a ridiculous but delightful manner.
This article was originally published on