Dax Shepard and Kristen Bell Tried Having 'The Talk' With Their Five-Year-Old
by Amanda Tarlton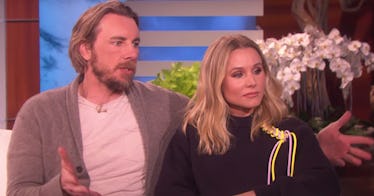 TheEllenShow
Where do babies come from? It's a question most parents will have to deal with from their kids at some point—and a tough one to answer, like Kristen Bell and Dax Shepard recently found out.
On Monday's airing of The Ellen DeGeneres Show, the couple revealed that they tried to have the "birds and the bees" talk with their five-year-old daughter Lincoln after she brought it up out of the blue.
"We weren't like, 'Oh crap we gotta get around to that talk, she's five," Shepard first clarified, before explaining that they started by going over male and female anatomy. "Penis, vagina, ovum, sperm, we were laying it all out," the 44-year-old dad said.
And right when they were getting to "the good part," Bell, 38, said that "[Lincoln] was like, 'OK, I gotta go outside.' And just left! She bailed."
Shepard chimed in, adding "She knows all the organs, but when it got to the actual nuts and bolts of the operation…"
The Good Place actress then joked to DeGeneres, "We bored her to death."
And the couple, who also share four-year-old daughter Delta, have always had a sense of humor when it comes to both parenting and sex. On a past segment of The Talk, Bell shared that the kids once walked in on her and Shepard mid-romp.
"That's how they were made, it's OK!" the mom of two told the shocked cohosts."We didn't, like, continue. We sort of just went like, 'Hey, what's up? What do you need? What do you need?' And then we just said, 'Mommy and Daddy are just going to take a nap for a couple of minutes.'"