Kobe Bryant's Family Pays Touching Tribute at New Memorial
It's nice to see them smiling.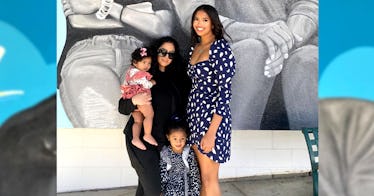 VanessaBryant/Instagram
Two weeks after her emotional yet elegant speech at the memorial service for her husband and daughter, Vanessa Bryant shared a photo of her family standing in front of a mural of their father and sister. It's one of many works of street art that have popped up in the weeks since the helicopter crash that killed Kobe, 13-year-old Gianna, and seven others.
Natalia Diamante, 17, and Bianka Bella, 3, stand next to their mom holding Cari Kobe, who will turn two in June. Vanessa included the lyrics to "Smile," a song made famous by Nat King Cole, and an appropriate choice considering that everyone in the photo is smiling despite their grief.
In a separately posted photo of just Natalia in front of the same mural, Vanessa included #winterformal in her caption, suggesting that she was on her way to a high school dance. It's the kind of normal teenager thing to do that suggests that she and her family are on the road to some kind of normal, an encouraging sign given what they've been through.
The mural itself is based on a well-known photo of the pair sitting courtside at a Hawks-Lakers game last November. But instead of the stands at the Staples Center, they're shown in front of a blue sky with clouds, a halo hovering over Gianna's head.
The replies to the post are positive and supportive, a steady stream of hearts, prayer hands emojis, and words of encouragement from some of Vanessa's 13.5 million followers.
This article was originally published on