Kindergarten Teacher Struggling To Keep Kids Engaged Online Goes Viral
by Isabella Bridie DeLeo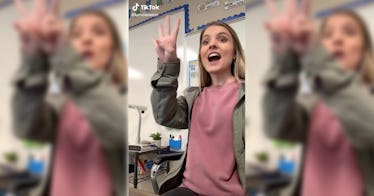 @kenziiewenz/TikTok
Teachers are facing so many challenges right now, one of them being how to keep kids engaged in the classroom, particularly if that classroom is virtual. Even in non-pandemic times, early education teachers tend to have to spend a lot of time and creative energy dedicated to keeping young students engaged while learning their ABCs, but now, teachers are working overtime to keep kids' attention span up. One viral TikTok brilliantly sums up many teachers' struggles right now.
This kindergarten teacher's video, which has garnered upwards of 7 million views on TikTok also been shared on Twitter, shows the levels of energy and enthusiasm that the teacher shows just to get kids to respond to lesson plans over Zoom. You can read the slight pain in this teacher's eyes as she tries to get the kids to respond to the lesson plan while also holding a laminated sign with a microphone on it, so the students know to turn on their microphone in order to be heard.
Chris Hayes, of MSNBC's All in With Chris Hayes, commented, "The little laminated signpost w the microphone symbol is the cherry on top," and the Twitter user who shared the video captioned the video very accurately, "this woman should literally be paid one million dollars a year." The video, while darkly funny, is also a reminder for parents to try to be as supportive and understanding of teachers as they can be right now—teachers are trying their best.