Kim Kardashian Officially Confirms She and Kanye Are Having Another Kid
by Amanda Tarlton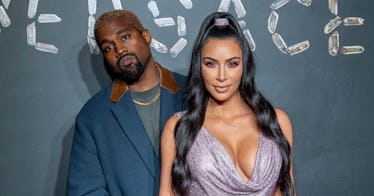 Kim Kardashian West finally confirmed that she is expecting her fourth child via a surrogate with husband Kanye West. On Monday night's airing of Watch What Happens Live with Andy Cohen, the reality TV star shared the news along with the gender of their baby-to-be.
When host Andy Cohen asked if she and Kanye were "working on another child," Kim said, "We are. We do [know the due date], it's sometime soon."
Then, to the surprise of older sister Kourtney, Kim revealed, "It's a boy… I think it's been out there," and admitted, "I got drunk at our Christmas Eve party and told some people. I can't remember who I told because I never get drunk."
The couple currently has daughter North, 5, son Saint, 3, and daughter Chicago, 11 months. Similar to their youngest daughter, the new baby will be delivered via a surrogate (although it will not be the same one who delivered Chicago). It's a decision that the 38-year-old made after she openly struggled with preeclampsia and placenta accreta during her first two pregnancies.
And according to Kim, her oldest child will be especially excited to welcome the newest addition to the family. She told PEOPLE that North said, "We just need to have another baby brother so that Saint can leave me alone … so the girls can be on this side of the house and the boys can be on that side."
Kim also previously revealed that Kanye, 41, wants seven kids, but that she's content with four. "I've been kinda hesitant about having more kids because it literally keeps me up at night, thinking about how my kids will survive in a crazy world like this… I don't think I could handle more than [four]."
This article was originally published on