These Kids With Disabilities Got Impressive Custom-Made Dolls
When her pediatric oncology patients weren't connecting with traditional dolls, a Wisconsin social worker decided to start making her own.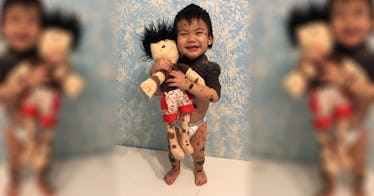 Facebook/ A Doll Like Me
Amy Jandrisevits used to work as a social worker in a pediatric oncology unit where she used dolls in play therapy to help her clients express themselves. Unfortunately, the idealized physical features of the dolls she was using did not reflect the physical realities of the kids she was working with. So she decided to make her own.
That was about four years ago. Since then, Jandrisevits has expanded her efforts into A Doll Like Me, a small business dedicated to her doll making. She makes every doll by hand with a specific child in mind.
Jandrisevits puts a lot of effort into making each doll look like the child it's intended for. In addition to skin color, hair color, and outfit, Jandrisevits has learned how to create dolls with birthmarks, clefts, albinism, limb differences, and other physical characteristics. The only thing every doll is wearing is a smile.
Those smiles are matched in the pictures of elated kids clutching their new dolls. The A Doll Like Me Facebook page is a treasure trove of these pictures, which can melt even the iciest of hearts.
Every doll costs about $100 to make and ship, but Jandrisevits isn't in the business of denying dolls to kids who want them simply because their parents may not be able to pay. She started a GoFundMe page nearly four years ago to help her provide dolls to kids regardless of need. She's raised nearly $24,000 on the platform, which recognized as the "GoFundMe Hero" for the month of December.
Jandrisevits has made over 300 dolls and shipped them around the world, from Venezuela to South Africa. In addition to working her way through the waitlist, her goal is to turn A Doll Like Me into an official non-profit organization that can provide a doll to every kid who needs one free of charge.
This article was originally published on