Kevin Hart and The Rock Are In the Midst of an Epic Photoshop Baby Battle
It's hilarious. And a little creepy. But mostly hilarious.
by Ben Marx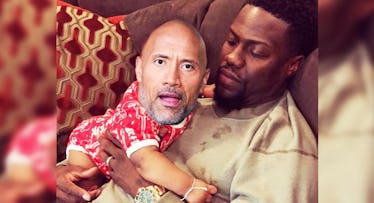 Kevin Hart/Facebook
It's normal and fun for parents to get competitive online with showing off photos of their kids. But Kevin Hart and Dwayne "The Rock" Johnson took it to the next level over the weekend by sending one another pictures of their heads Photoshopped onto their baby's bodies. The Rock even composed a raunchy poem for his bud.
The duo, who've starred together in such movies as Jumanji: Welcome to the Jungle and Central Intelligence, kicked off the surreal battle after the recent birth of The Rock's second child, daughter Tiana Gia Johnson. The Rock threw the first Photoshopped punch, posting a picture to Instagram with Kevin Hart's face swapped in for his daughter's, captioning it with this poem: "Twinkle Twinkle little Hart / I just don't know where to start / Daddy will always love and protect your tiny little soul / Even though you were delivered directly out of the butthole." Not exactly Shakespeare, but pretty damn funny. The photo is…withering.
Rather than just take The Rock's jab, though, Hart responded with a Photoshop of his own, putting The Rock's face on his kid. "Long talk with this little big jackass last night about the business," Hart joked on Facebook. "He got so excited because we started talking about Jumanji 2 & doing another movie together that I had to pop him in the mouth and tell him to shut the fuck up!"
Luckily, Hart ended this entry of their awesome feud on a sweet note: "The bottom line his that Kids will be Kids….I'm taking him to Disney land today to apologize." Baby Rock can definitely smell that cooking.