Ken Jennings' Nightly Tribute to Alex Trebek Is Perfect
The interim host ends each episode with a simple and pretty perfect way to remember Alex Trebek.
by Isabella Bridie DeLeo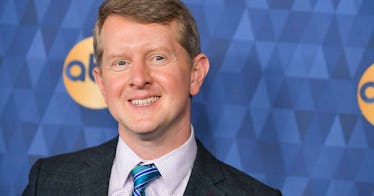 Getty
How does Ken Jennings
, interim host of Jeopardy!, end each episode as he takes on temporary hosting duties of the best game show in America? It turns out the way he does it is wonderfully appropriate and sweet.He's been sending off each show with a heartwarming tribute to the late, longtime host, Alex Trebek. Ken Jennings, whose episodes as the host began airing in January and will wrap up his hosting duties on February 19, is making sure that Alex is still and forever a part of the Jeopardy! conversation by ending every game with a few words of gratitude for Trebek. Recently, after thanking the audience at the end of each show, Jennings has also been saying, "Thank you, Alex." No, YOU'RE crying. Jennings recently explained that he got the idea from an executive producer on the show — and we imagine that all Jeopardy! fans are grateful for it. Jennings wrote on Twitter, "Thanks, Alex' was suggested as a sign-off by executive producer Mike Richards, and I'm glad he did. There wouldn't be a show without Alex." He's totally right, and it seems that Jennings' latest work would do right by Alex.
Jessica Brody wrote, "Every single time @KenJennings thanks Alex at the end of @Jeopardy, I get all choked up. I hope he never stops."Fans on social media seemed appreciative of Jennings' efforts to pay tribute to the former and iconic host.
After Jennings' time as guest host ends, a slew of other talented folks will begin their tenures as interim hosts, including Katie Couric, Mayim Bialik, Aaron Rodgers, and Bill Whitaker, according to TODAY. We hope that all future hosts find a way to honor Alex in some shape or form like Jennings has done thus far — or that they crib his own nightly tribute to the GOAT.
This article was originally published on